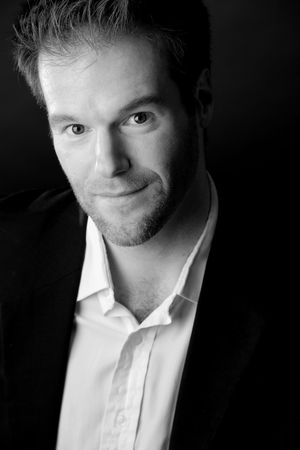 Benoit Pitre wurde in Montréal / Kanada geboren und sang bereits als Kind im Knabenchor seiner Gemeinde. Nach einem abgeschlossenen Studium der Betriebswissenschaften arbeitete er zunächst einige Jahre als Manager in Kanada, bevor er sein Musikstudium an der State University of New York at Buffalo und der McGill University in Montréal begann, das er mit einem Bachelor of Music im Fach Sologesang als Bassbariton abschloss. Meisterkurse u.a. bei David Jones, Jeanne-Michelle Charbonnet, Graciela Araya, Phyllis Curtin, Jerry Hadley†, Sherrill Milnes, Laura Sarti, Diana Soviero, KS Hannah Schwarz rundeten seine Studien ab.
Weiterführende Studien im Fach Lied und Oper führten Benoit Pitre mehrfach nach Europa. Er nahm an Sommerkursen in Salzburg teil und war beim Sommer Lied Weinberg und Sommer Lied Freistadt, wo er mit Roger Vignoles an seiner Liedinterpretation arbeitete.
Wichtige Impulse erhielt er u.a. durch das International Vocal Arts Institute (IVAI), das Opera Studio Montalto und die Brandenburgische Lotte Lehmann Akademie. Benoit Pitre war Stipendiat der Junge Musiker Stiftung Bayreuth sowie des Tanglewood Music Centre in Massachusetts / USA.
Erste Bühnenerfahrungen gewann Benoit Pitre als Leporello in Don Giovanni, Zuniga in Carmen und Crespel und Luther in Hoffmans Erzählungen an der Komischen Kammeroper München und als Zuniga am UQAM Opera Studio in Montréal. An der McGill Opera in Montréal war er in Strawinskys The Rakes Progress als Keeper zu erleben, bevor er 2004 die Partie des Peter Quince in Brittens A Midsummer Night's Dream beim renommierten Tanglewood Festival übernahm.
2005 übersiedelte Benoit Pitre dauerhaft nach Europa und sang zunächst Partien des Baritonfachs. Er sang Partien wie Papageno in Die Zauberflöte und Peter Besenbinder in Hänsel und Gretel auf Tourneen in Deutschland, Italien und Österreich, 2008 Guglielmo in einer Studioproduktion in Weimar und 2010 Graf Almaviva in Le nozze di Figaro beim Festivale della Lirica in Vale Argentina in Italien. Darüber hinaus sang er Partien wie Malatesta in Donizettis Don Pasquale, Jaroslav Prus in Janáčeks Die Sache Makropulos, trat im Oratorien- und Liedfach auf und nahm an Projekten mit Thomas Hengelbrock und Riccardo Muti ebenso teil wie an einer Tournee von Phantom der Oper.
Er debütierte dann als Lord Cecil in Donizettis Maria Stuarda in den USA und sang 2013 Don Pizarro und Don Fernando in Fidelio in der Inszenierung von Stefan Neugebauer im Berliner Stadtbad Steglitz.

2014 war er als Johann in Werther und als Graf Almaviva in Berlin zu sehen, und wirkte in einer inszenierten Version der Schöpfung Haydns als Raphael und Adam mit der Lübecker Singakademie mit. 

Er hat in 2015 sein lang erwartetes Debut als Don Giovanni in Berlin gegeben, war auch als Siméon in Debussys L'enfant prodigue in Berlin zu hören. In 2015 kamen dazu 2 Kreationen, erstens das Tanztheaterstück Pizzeria Anarchia mit dem italienischen Balletto Civile am Teatro della Tosse Genova, bei den Musiktheatertage Wien und bei der Neuköllner Oper als Opernsänger/Wiener Polizeichef. Ende 2015/Anfang 2016 die Hauptrolle des Piloten in einer deutschen Produktion des kleinen Prinzen Saint-Exupérys die 3 Monate im Deutschprachigenraum auf Tournée war. 

2016 kehrte Benoit Pitre zu seinem eigentlichen Stimmfach zurück.
Zuletzt kreierte er die Rolle Der Graue in der zeitgenössischen Oper 'Schattenlos', sang der Bonze in Madama Butterfly und Leporello beim Festival of the Aegean und Melisso in Händels Alcina in Berlin.
2018 hat er auf der Opernbühne u.a sein Début als Kecal in Die verkaufte Braut, Le grand Inquisiteur in Don Carlos und als Bürgermeister in der deutschen Premiere der zeitgenössischen Oper 'Was bleibt' gegeben. 
2019 hatte er sein Début als Kaiaphas in Jesus Christ Superstar in Luzern, war er wieder unterwegs mit dem Phantom der Oper, gab zum ersten Mal Frank in Fledermaus in Chorin und kreiirte die Rolle des Ponce Pilate in Normand Gasnier's zeitgenössiche Oper Rabbi in Kanada.  Derzeit erarbeitet er sich ein breites Repertoire als Bass. 2020 sollte er sein Début als Juan Perón in Evita beim Operettensommer Kufstein, sowie als Alcindoro/Benoît in Bohème in Kanada geben, und nach einer 5-jährigen Pause wieder die Rolle des Piloten verkörpern, was durch die Covid-19 Krise verschoben wurde.
Benoit Pitre ist außerdem als Synchronsprecher und Schauspieler tätig. 
Benoit Pitre is a charismatic Canadian Bass based in Berlin.
In the classical world, in 2020 he jumped-in as Kezal in Die verkaufte Braut and should have had his début as Alcindoro/Benoît in Bohème, which was cancelled due to the Covid-19 crisis. IN 2019 Ponce Pilate in the creation of Gasnier's contemporary opera Rabbi, beforehand Frank in Fledermaus. In 2018 Die Verkaufte Braut (Kecal), Don Carlos (Le grand Inquisiteur) and the German première of Was bleibt (Bürgermeister), a contemporary opera based on the Rattenfänger von Hameln story.   He recently created the role of Der Grauer in the contemporary opera Schattenlos, sang Don Giovanni in a revival in Berlin, the Bonze in Madama Butterfly and Leporello at the Festival of the Aegean, and Melisso in Händel's Alcina in Berlin.
Previously in 2015 he made his long awaited début as Don Giovanni in a German production in Berlin and performed the role of Siméon in a staged version of Debussy's L'enfant prodigue.  Other performed roles include Raphael and Adam in a staged version of Die Schöpfung in Lübeck, of Graf Almaviva in a German Figaros Hochzeit in Berlin, of Don Pizzaro and Don Fernando in the praised Fidelio production of Stefan Neugebauer in Berlin, Lord Cecil in Opera Sacra's acclaimed production of Donizetti's Maria Stuarda, of Jaroslav Prus in Janáček's Die Sache Makropulos at the Kundry Festival in Munich, and of Dr. Malatesta in Donizetti's Don Pasquale under the helm of the Istituto Italiano di Cultura di Amburgo. Previous operatic engagements saw him as the Conte Almaviva in Mozart's Nozze di Figaro at the Festivale della Lirica in Vale Argentina and as Guglielmo in Mozart's Così fan tutte at the Volkstheater Weimar. He also traveled as Peter (Hänsel und Gretel) and Papageno (Zauberflöte) on outreach tours throughout Austria, Germany and northern Italy during his first years in Europe.

Initially trained as a bass-baritone, Mr. Pitre performed roles such as Peter Quince, Zuniga, Leporello, Crespel and Luther in venues such as the Tanglewood Festival and the Komische Kammeroper München before venturing in the baritone Fach after moving to Europe.  He was guided back to his true lower voiced Fach in the last years.

Also vested in song recitals and promoting contemporary repertoire, he was fortunate to work on multiple occasions with luminaries such as Roger Vignoles. A series of recitals promoting songs of his native province and contemporary NY composers took place in Europe in 2014/2015.
In the musical theater world, in 2019 he had his Kaiaphas début (Jesus Christ Superstar) in Luzern.  In 2020 he should have had his début as Juan Perón in Evita at the Operettensommer Kufstein, and reprise the role of the Pilot in Der kleine Prinz after a 5 year hiatus, both projects were cancelled due to the Covid-19 crisis. In  2018-2019 he played Nadir Kahn once more in a German tour of Phantom der Oper, In 2015-2016 he created the role of the Pilot to high acclaim in a new German musical based on Saint-Exupéry's Le petit prince that toured Germany, Austria, Italy and Switzerland. In 2015 he collaborated with the reknowned Italian Balletto Civile for the Tanztheater creation of Pizzeria Anarchia, a coproduction of the Teatro della Tosse Genova, the Musiktheatertage Wien and the Neuköllner Oper, portraying the Opera Singer/Wiener Polizeichef. Beforehand he had been part of two tours of a German version of Phantom der Oper as Nadir Kahn in 2012-2013.

Mr. Pitre received his degree in music performance from McGill University, following initial musical studies at the State University of New York at Buffalo. He furthered his development through masterclasses with David Jones, Jeanne-Michelle Charbonnet, Graciela Araya, KS Hannah Schwarz, Sherril Milnes, Diana Soviero, Phyllis Curtin and Jerry Hadley† to name a few. Mr. Pitre was a recipient of a Tanglewood Music Center and a Junge Musiker Stiftung Bayreuth fellowship.
Benoit Pitre is also in demand in the dubbing and acting field.